Not long ago, 15 natural health doctors died and/or "disappeared" under mysterious circumstances.
Was the groundbreaking research they were doing a factor? One independent investigation has uncovered some shocking theories…and—even more important—details on the cutting-edge cancer treatments they were working on.
Dear Reader,
On June 19, 2015, cancer researcher Dr. Jeffrey Bradstreet was found floating in a river, with a bullet hole in his chest.
Authorities reported they found a handgun upstream and yet it was ruled a suicide.
This immediately caught the attention of the alternative press. And as the story unfolded, so did another hypothesis about the cause of his death.
If you or a loved one is battling cancer, the details of this controversial story could save your life.
But if you are skeptical, you're not alone. My colleagues and I were too when we first read about it, but had to take it more seriously as the evidence piled up.
Here's a brief preview of what we found…
Within weeks of Bradstreet's tragic death, a report emerged that claimed armed agents from the FDA raided the doctor's office just three days before his death.
They seized his medical files, test samples, and just about anything else they could get their hands on.
The nature of the raid had us thinking: "What were they after, really?"
Our answer came later, in the form of a legal document: a copy of the government's search warrant that authorized the raid.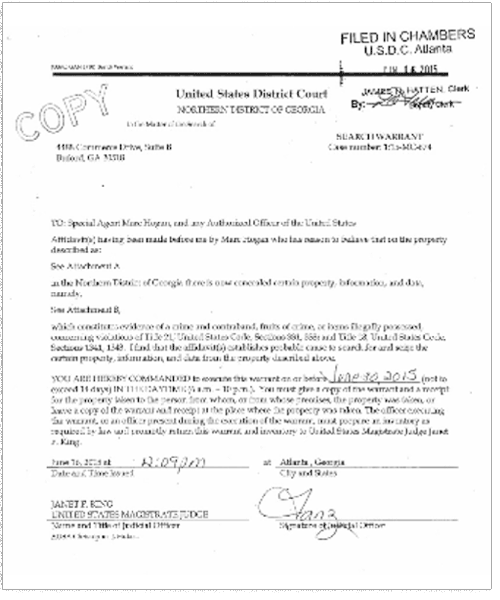 And the answer shocked us.
The cause seemed to be related to the scientific research Dr. Bradstreet was doing.
Research into the remarkable effectiveness of a breakthrough cancer treatment—one that could possibly cost the drug industry billions of dollars if it came into public view.
To be frank, this scared us.
We had heard other stories of the same kind for years—stories of raids and seizures that had similar motivations.
But we were also outraged. So we began digging into details of the story and the study he had been conducting, including the remarkable results that might post a serious threat to the $1.2 trillion-dollar pharmaceutical industry.
Our investigation into the doctor's death left us increasingly worried. But the work he did on the therapy itself excited us.
From even the earliest evidence it seemed likely the doctor had uncovered something that would be safer, much less expensive, and in some cases far more powerful than chemotherapy.
How to explain it?
The evidence suggests this new therapy can activate a naturally occurring substance in our body—what some researchers have dubbed the "Super Molecule." One that unleashes the full power of our body's natural immune system to fight against cancer cells…
And, unlike chemotherapy, it does so without harming healthy cells, which means no dangerous side effects.
If this were true, we realized it would be a breakthrough development in the field of medicine. Of course, we were skeptical, as all good scientists should be.
But as we dug in deeper, we found layer upon layer of evidence to support the doctor's findings…
Including papers by 180 scientists that studied its potential to treat all sorts of cancers….everything from prostate…to pancreatic…to breast cancer. One of these was a study published by the Journal of the National Cancer Institute.
Many of these studies suggested that the "Super Molecule" could be the long-anticipated "lynchpin" of the immune system. Something that could allow our body's defenses to finally defeat cancer once and for all.
In fact, this molecule is so important—and so powerful—that cancer can't proliferate unless it is effectively deactivated.
That's why cancer cells "turn off" this molecule before they grow and spread.
But once the "Super Molecule" is switched back on, it has the power to stop cancer cells dead in their tracks.
That's whatDr. Bradstreet was working on when he suddenly died. He was one of the first doctors to develop it…and his office had files and files that supported it—support that the FDA appears to have wanted.
Why would the FDA want to seize this kind of information?
Well, they claimed it was because the treatment was unapproved…
But our research suggests—and later events would indicate—that instead it's because this cancer discovery produced such incredible results…published in dozens of credible medical journals worldwide…it would only be a matter of time before news of it broke into the mainstream.
And that means it could replace ineffective, dangerous, and super-expensive chemotherapy as the first-line treatment for cancer.
Chemotherapy is a $125 billion industry…an industry that is widely promoted to doctors and the public—and immensely important to the FDA.
In short, the FDA must have seen the writing on the wall.
In just a moment, you'll get all the details we uncovered on this potentially lifesaving therapy…including real-life examples of so-called terminal patients who saw their tumors vanish and went into complete, long-term remission.
But first, you need to know something critically important…
This wasn't the first time a groundbreaking cancer therapy has been covered up.
Nor would it be the last.
You see, this was just the tip of the iceberg. The full story was only just beginning to unfold…
Our ongoing investigation suggested that Bradstreet's death might have been just the first in a string of surprising and suspicious deaths and "disappearances" of cancer researchers and alternative doctors…
15 Doctors Dead or Missing in 4 Months—Coincidence?
Over the next four months, reports claimed 14 more physicians engaged in the search for safe, natural, and effective cures—just like Bradstreet—died or disappeared mysteriously.
For instance…
Immediately after Bradstreet's death, two natural chiropractors in East Florida were found dead on the same day—both causes of death undetermined. One of the families—suspecting foul play—has hired private investigators.
Dr. Jeffrey Whiteside disappeared the next day and turned up dead several weeks later. The cause of death was ruled a suicide. But the police investigation was so botched, one local newspaper said it "all added up to a mess."
On July 10, osteopath Dr. Lisa Riley was found dead with a gunshot wound to her head in what a local newspaper called a "mysterious death."
And nine days later, Dr. Ronald Schwartz was found shot to death in his Jupiter, Fla., home. No suspects were found.
And these are just a few examples…
All told, 12 died and at least 3 vanished without a trace.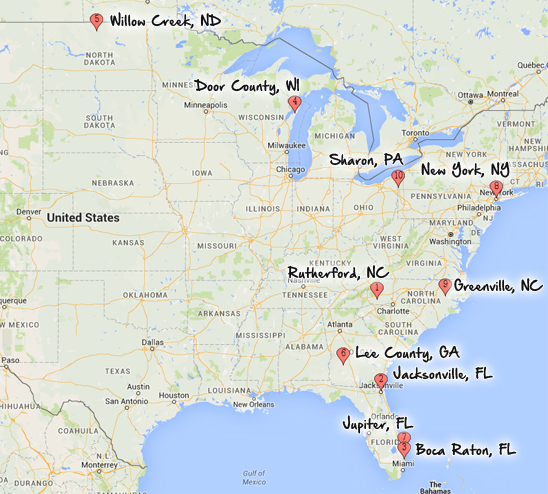 So is there a connection? And if so, what is it?
Consider this…
They all were natural doctors.
Most practiced in the state of Florida.
And some—like Bradstreet—had encountered the feds.
But that's not all. Our investigation turned up something else…something even more important.
"The Cutting-Edge Cancer Breakthroughs These Doctors Were Working On…"
Natural cancer remedies that posed a REAL alternative to chemo, radiation, and surgery.
Therapies like…
The "Gonzalez Protocol"—a series of treatments reported to have healed over 10,000 patients from "terminal" cancer…and claiming a 100% cure rate for advanced pancreatic cancer.
The "Super Molecule"—a natural cancer "defeater" that works by activating an essential component of the immune system so cancer tumors don't grow or spread. It can kill breast cancer cells in just three days.
The "Gene Changing Therapy"—a program that combines immunotherapy, nutrition, and mind-body healing in order to effectively "switch off" cancer cells.
All promising treatments…and all affordable, safe, and easy to use. No surgeries, hospital visits, or drugs required. They simply harness our body's natural, God-given ability to defeat cancer.
And although hundreds of scientific papers in credible journals give evidence of their cancer-killing potential… None of them reached the mainstream media.
In just a moment, you'll get all the details on these CENSORED therapies and their proven track record of healing.
I'm talking about important, scientifically validated information that could save your life or that of a loved one.
At this point in our investigation, I am not prepared to suggest that there was a formal conspiracy behind all of this. The sad truth is that we may never get to the bottom of the story.
But I can say this, and with 100% certainty:
These discoveries should be known to everyone and anyone who's battling cancer or knows someone who is. No matter…
Their stage or type…
What they've tried before…
Or their family history.
But before I go into that…
Allow Me to Introduce Myself
My name is Angela Salerno. And I'm the Executive Director of The Institute for Natural Healing, whose headquarters is in Delray Beach, Florida.
We are an alliance of researchers, doctors, and health-seeking people like you. Member Richard M. of Missouri confirms, "You have a trustworthy team of doctors and advisers."
But our mission is simple…
To locate pioneering doctors and scientists all over the world— "mavericks" who venture outside the mainstream medical system to find real cures. And if we can find solid, scientific evidence that these breakthroughs work, we bring them to our members.
Make no mistake about it. There is an effort to drive these doctors and their discoveries deep underground.
The FDA, mainstream media, and Big Pharma have many ways of squashing news that might undermine the $1.2 trillion-dollar drug and mainstream medicine industry.
And they don't stop at publicity tactics that keep natural solutions from seeing the light of day. They appear to be actively destroying the lives and careers of the people who discover, research, and produce them.
Case in point: the highly controversial story we're exposing today.
You see, we are at the epicenter of this tragic string of events that have rocked the natural health world. Some of these doctors died just a short drive from our office headquarters.
As the story developed, it was all our team could talk about. And it seemed like every day another doctor turned up dead or went missing nearby.
But as I said earlier, we're not conspiracy theorists. And we aren't private investigators. We have only one goal—to help our members live longer, healthier lives with scientifically backed natural solutions.
Patty Ashland of Bayshore, N.Y., reports, "I found you right after my cancer diagnosis as I was determined to fight and win without chemo or a ton of toxic stuff. Between the info I found through you and all the knowledge I have accumulated myself, I beat cancer without Big Pharma!!!!"
In the past we have uncovered hundreds of bogus reports about "miracle cures" that turned out to be hoaxes. We will continue to do so.
So we were skeptical of this story at first.
But we're also realistic. And it is impossible to take a realistic look at the $1.2 trillion-dollar drug and medical industry without acknowledging that it has a history of suppressing, discrediting, and harassing certain scientists and doctors trying to bring natural cures to the public's attention.
It's a fact.
We also have to realistically acknowledge that there have been dozens of developments in the fight against cancer that are either as or more effective than chemo—but less expensive and free from side effects…
The sort of therapies that the mainstream drug and medical industry cannot profit from…
Many of these have been buried in the dustbins of history. And left out of the medical textbooks.
I look forward to the day when natural remedies are given the same respect as drugs and surgery. And I believe that this day will come only if the alternative media (the smaller, independent health research groups and publications) expose these campaigns of harassment.
In the meantime, here at The Institute for Natural Healing, we have a more urgent mission—and that is to reveal the promising cancer discoveries that are being made all the time…
Lifesaving treatments you might NEVER hear about from the mainstream media or your doctor.
But once you learn the truth, they can't stop you from controlling what you put in your body—so long as it is natural and legal. That's your right.
And it's our right to publish information that we discover—through our diligent research—could be helpful.
That's why we've put together this presentation.
And it's why we're about to give you details on 7 BURIED cancer breakthroughs…safe and inexpensive therapies—some you can even administer today, from your own home.
Let me start with an unusual cancer-killing protocol…one with a 45-year track record of success at treating even the most hopeless, "terminal" patients. And one that was almost lost to mysterious circumstances…
The Protocol Quietly Healing
Cancer Patients for 45 Years
The doctor who pioneered this natural cancer-fighting protocol—Dr. Nicholas Gonzalez—was among the doctors who recently lost their lives.
A Cornell University graduate, Dr. Gonzalez had achieved fame for his protocol's success, especially for treating celebrities like Suzanne Somers.
In fact, Somers recently named him as "one of the doctors quietly curing cancer."
Like Somers or not, she defeated cancer. And Dr. Gonzalez was her physician.
According to published studies, his protocol has an astonishingly good success rate.
If it proves out, it is a bona fide breakthrough because no mainstream cancer treatment even comes close.
So why haven't you heard about it?
The skeptic in me wants to say this: You can't patent the nutrients or therapies involved in his protocol. Since it's natural, it's not only safe, but costs less than 10% of conventional cancer care.
In a two-year study endorsed by the National Cancer Institute, a small group of pancreatic cancer patients saw up to a 1,100% boost in survival rate on the Gonzalez Protocol.
That's incredible. It means so-called terminal patients lived, on average, 12 times longer using this protocol instead of chemo.
Whereas the survival rate of pancreatic cancer victims after two years is virtually zero percent…
Many of Gonzalez's "terminal" patients are still alive, healthy, and in remission after 10, 15, EVEN 30 years…including pancreatic cancer patients treated as far back as 1982.
According to Dr. Gonzalez, over 10,000 documented patients have been treated successfully with his protocol.
And one independent study done on the Gonzalez Protocol found patients experienced a 100% cure rate for pancreatic cancer.
The study also found patients suffering from 24 types of late-stage, terminal cancer, who had just months to live, experienced an average 10-year survival rate with this protocol!
Another physician who implemented this treatment for thousands of his patients claimed they were cured 93% of the time!
10,000 Cancer Patients Cured—
For instance…
Case Study #1:
Larry Red, a 70-year-old retiree, went for a routine X-ray when the doctors saw something unusual. They recommended surgery and found he had late-stage pancreatic cancer. He was told he had two months to live, and that chemo and radiation were of no use. This was in August 1991.
But instead of giving up and getting his affairs in order as the doctors suggested, Larry and his wife began reading about cancer, nutrition, and alternatives. That's when they stumbled upon the Gonzalez Protocol and began using it from their home.
Fifteen months after his diagnosis, Larry still was alive and a CT scan showed his tumor hadn't grown. Over five years later, the radiologist found his pancreas had returned to normal. The large tumor had simply disappeared. According to the case study reported in 2007—more than 15 years after his diagnosis—Larry still was alive and cancer-free at the age of 85, thanks to the Gonzalez Protocol.
Case Study #2:
Then there's Dylan Quincey, who developed Stage 4 kidney cancer—a disease with an average survival of only 50 days. Only a week after his last dose of radiation, he reported significantly diminished energy and had lost 20 pounds. And doctors found a lemon-size tumor sticking out of his skull—where the cancer had spread.
This is when he turned to the Gonzalez Protocol. Within weeks, Dylan saw his energy return along with a 20-pound weight gain. After 3 months, the large skull mass completely resolved. And 16 months after starting the protocol, doctors found no evidence of the disease.
Fifteen years later, Dylan was still in excellent health and cancer-free.
Case Study #3:
Then there's Brenda Vincetti, a 67-year-old woman who was in good health until her mammogram revealed a suspicious mass. Stage 4 breast cancer…and she had just months to live.
Brenda rejected surgery and instead opted for the Gonzalez Protocol. Five months later, repeat bone scans showed her cancer was gone! What's more, her symptoms totally disappeared and Brenda even returned to work full time.
A follow-up scan again was clear. And nearly 15 years after she began the Gonzalez Protocol, Brenda remained cancer-free.
Patients like Brenda—and those you just read about—are supposed to be "incurable" and "hopeless"…with just months to live.
Yet over a decade later, they were free of cancer…living happy, healthy lives.
I know this sounds incredible. Had I not seen the evidence myself, I wouldn't have believed it for a second.
But these case studies were documented…and independently verified…in a peer-reviewed medical journal.
Again, why wasn't this all over the news?
At the very least, there is some serious, scientific evidence that this natural therapy runs circles around mainstream treatments.
Yet if it were a drug, it might have been front-page news. And it might have been approved by the FDA. And oncologists might have started writing thousands of prescriptions that day, making Big Pharma even bigger.
Again, the skeptic in me thinks:
"But since you can't patent the nutrients or therapies involved…and the treatment is inexpensive and easily accessible…the billion-dollar cancer industry only saw Gonzalez as a threat to their profit margins. And so instead they had the study BURIED."
In his last interview with Somers, Dr. Gonzalez told her…
"I've Been Told the Drug Companies Know About My Treatment… And They Hope I Get Hit By A Bus"
Nicholas Gonzalez, famous natural oncologist, now deceased.
I don't know about you…but when I first heard those words, I got chills up my spine.
And while Gonzalez didn't get hit by a bus, the circumstances of his death are questionable.
On July 21, it was reported he had died from a heart attack. But a follow-up autopsy ruled that out…and the cause of his death is still undetermined.
But there is some hope that came out of this sad story…
Gonzalez's work lives on.
Not just in the thousands of patients written off as hopeless who are alive and healthy today because of this protocol.
But in the people it STILL could cure going forward.
During our investigation into the doctor's death and his important work, we uncovered little-known details about his protocol.
Details you won't likely find anywhere else, certainly not from your doctor or the mainstream medical establishment.
And we've assembled everything we've found on the Gonzalez Protocol, and exactly how it's been implemented to heal over 10,000 cancer patients…with all types of cancer, at any stage…in a special report.
We've put a great deal of time into this report to provide you with the details on this simple 4-step protocol. Including the one natural enzyme that is the foundation of this treatment plan. We even show you where to get it and how much to take.
In other words, we provide the information you need to use this protocol to heal yourself, a family member, or friend from the ravages of cancer.
But that's just for starters…
Our report also provides six other cutting-edge breakthroughs attacked and BURIED by the medical establishment.
Cancer-killing therapies that have serious evidence behind them…
Natural remedies that are simple, safe, and inexpensive…
In order to start using these lifesaving treatments today…
You don't need to go to the hospital or get a prescription.
You don't need a lot of money or even health insurance.
And in some cases, you don't need to even leave your home!
This information is important. It's also highly sensitive. But here at INH, we are determined to get these lifesaving details to you.
In a moment, I'll show you how to receive a free copy of this report directly to your inbox instantly.
But before I do, let me show you more of what we've uncovered through our investigation. Including the details behind the recent death of another natural cancer doctor, Mitchell Gaynor…
Cancer Cover-Up #2:
Mainstream Medicine Shuts Down Cutting-Edge Cancer Doctor's Gene-Healing Protocol

If you haven't heard of Dr. Gaynor, you should.
He was a best-selling author, research pioneer, and one of the most credentialed cancer doctors in natural health…AND in mainstream oncology.
Here's just a brief preview of his credentials…
30 years board certified in internal medicine, medical oncology, and hematology.
A member of the American Society of Clinical Oncology, the American College of Physicians, and the New York Academy of Sciences.
A Cornell University graduate and post-doctorate fellow in molecular biology at Rockefeller University.
Former Director of Medical Oncology at the Strang Cancer Prevention Institute.
Former Medical Director at the Weill Cornell Medical Center.
Member of the Executive Review Panel at the Department of Defense.
A doctor with this kind of background was just supposed to accept chemo and radiation as end-all solutions…collect his paycheck…and shut up.
But not Gaynor…
His first epiphany came at Rockefeller University, when he discovered certain cancer-causing genes can be turned on or off. Not with futuristic DNA editing technology or anything like that.
Instead, this can be achieved with certain natural chemicals found in common fruits and vegetables. It's a discovery that led to his cutting-edge protocol—what he called "Gene Changing Therapy."
The goal of this nutrition, immunotherapy, and mind-body healing combination is to attack cancer on multiple fronts…
Purging common environmental toxins and cancer-causing enzymes from our bodies.
Promoting apoptosis (cell death) in cancer cells.
Encouraging natural cancer tumor inhibitors.
Building a super-immune system to prevent cancer cells from spreading.
And eliminating cancer-causing stress and anxiety.
All to fix, heal, and restore the gene damage that leads to cancer.
His protocol proved so successful it was endorsed by leading physicians like…
America's #1 doctor talk-show host, who also wrote the introduction of his book and even featured Dr. Gaynor on air.
Mimi Guarneri, M.D., Medical Director, Scripps Center for Integrative Medicine.
And Michael P. Osborne, M.D., President, Strang Cancer Prevention Institute.
Needless to say, Gaynor's protocol was starting to make serious waves. But that wouldn't last long.
Just weeks after the mysterious death of Dr. Gonzalez…
Dr. Gaynor's body was found in the woods behind his house. It was first reported he had walked away from a car crash. But authorities later claimed it was a suicide, though no other details were given.
Who knows the real story?
To be perfectly honest, we didn't find anything in our research to draw any definitive conclusions. But what we did find was something much better—details on Gaynor's cancer-killing protocol. Including the 3 critical nutrients at its core. You already have at least 2 of them already in your home. The other one, you can get at any grocery store.
And we've assembled the details on this cutting-edge treatment in our report:
7 Cancer Cure Cover-Ups:
Safe, Proven, BURIED Alternatives to Chemo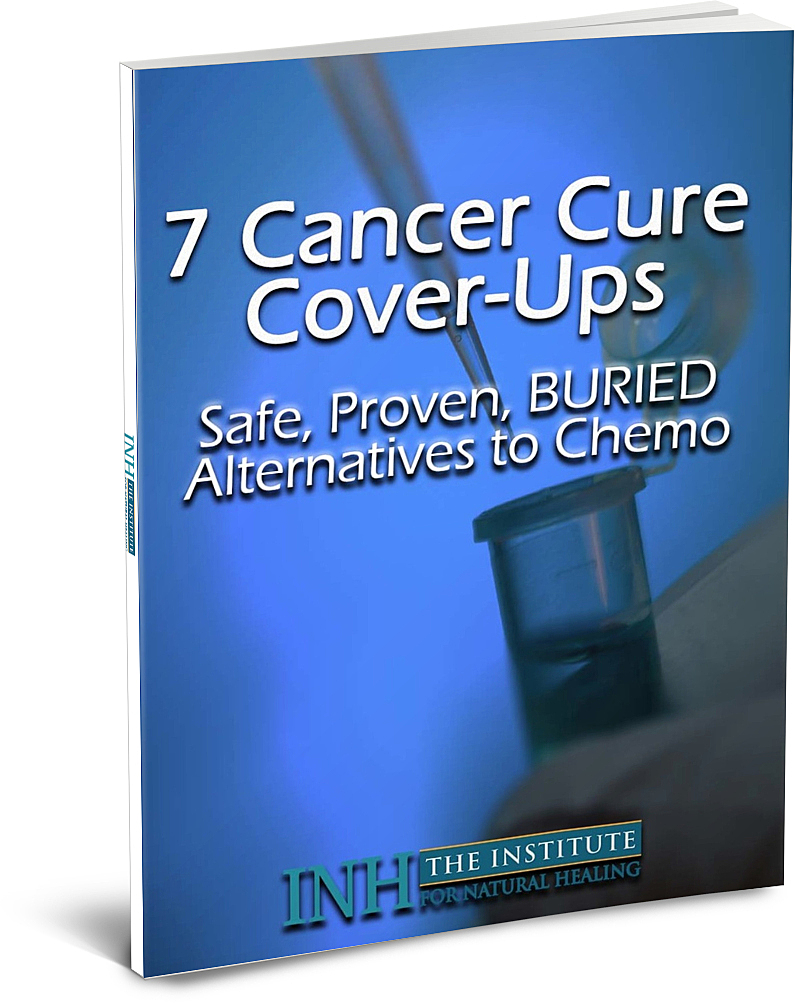 But before I show you how you can claim free access to this report, I think you need to see one last thing…
One more of the controversial cancer therapies inside…
The treatment Dr. Bradstreet was working on before he died—the one that kicked off our investigation.
Cancer Cover-Up #3:
"The Super Molecule": A 3-Day Breast Cancer Cell Killer
This "Super Molecule" is the Gc protein. And once combined with vitamin D, it activates cancer-killing immune cells known as macrophages.
Now normally this would work to prevent cancer from ever developing and metastasizing. But before cancer grows, it does something smart.
It disables the Gc protein's ability to bind with vitamin D.
This leaves our ultra-potent immune cells deactivated and dormant as cancer quickly spreads.
Bradstreet and others had worked on developing a treatment to fix this. And based on over 142 research papers…case studies…and journal articles…
They were definitely onto something…something that at least deserved serious consideration for cancer care.
Proof You Can Actually SEE!
In fact, when this treatment was injected to treat breast cancer cells…
Over the course of 60 hours—less than 3 days—these cells were killed…devoured by the macrophage cells it activated. Never to return.
That's great and all.,but what about real human beings? Take this case study from the peer-reviewed journal Anticancer Research.
A 55-year-old woman was diagnosed with breast cancer in 2009. She received a lumpectomy. But the tumor returned two years later. She was suffering from severe coughs, back pain, and swelling of the right arm.
After trying several different treatments, she started receiving doses of the "Super Molecule" in June of 2013.
By the beginning of October—4 months later—her symptoms had disappeared. So had her tumors. Take a look at the before-and-after scans…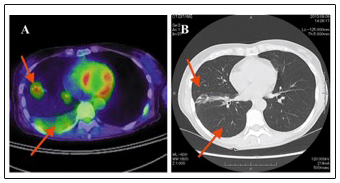 In the first chart, the arrows point to the illuminated tumors on her right breast. And as you can see in the second chart, these had disappeared.
Incredible. Right?
Of course, if there was only one case…I wouldn't believe it worked. And I wouldn't expect you to believe it either.
But in 700 reported cases of "Super Molecule" treatment, 85% of patients saw their symptoms either improve or completely disappear…even in aggressive, Stage 4 cancers. That includes people with all kinds of cancer from breast, liver, and prostate…to bladder and ovarian.
Take Gwen Harrison, now 59. She had Stage 4 ovarian cancer that had spread to the lungs. Doctors said she only had between 3 months and 2 years to live.
She asked a photographer to take pictures of her with her children and grandchildren so they would have something to remember her by.
Then she discovered the "Super Molecule" treatment through a friend.
"Within Three Months, My Lungs Were Clear"
Gwen explains, "Without any hesitation I thought I've got nothing to lose here. So I took it, and from that moment on I never looked back because within three months my lungs were clear, the ovarian tumor had shrunk to one quarter the size and I was just feeling over the moon, I was just so well."
"The surgeon said to me, 'In all honesty, Gwen, somebody who's had a tumor come back so quickly like you did for a second time, really shouldn't be here. So something is obviously working for you.'"
Gwen has lived to see seven grandchildren born. At the end of 2013, scan results showed she was cancer-free. She says, "Surviving cancer gave me a fresh look at life."
Or consider the case of Jen Sloan, a 57-year-old British writer.
In October 2012, oncologists told her she had, in fact, been living with malignant breast cancer, which had metastasized to her liver. The prognosis was two months to live. She recalls, "I decided to have a last family holiday with my remaining time and booked a holiday in Cyprus with my two daughters and sister."
Jen looked for an alternative to chemotherapy. She then found out about the "Super Molecule" and began using it along with a nutrition protocol.
"After the 'last holiday' there followed a 'last birthday' celebration and then a 'last Christmas' until I began to feel like a fraud," says Jen, adding, "I appeared and looked in perfect health, living life to the full."
Nine months after being told she would die, Jen had blood tests that showed her liver function had returned to normal. In August 2013, her CT scan proved she was cancer-free. According to Jen,
"My Cancer Specialist is Amazed at My Recovery"
Of course, these are just a few of the everyday people using the "Super Molecule" to do the "impossible"…
Defeat late-stage cancer without chemo, surgery, or radiation.
And although Bradstreet is no longer with us, word won't stop spreading of his discovery. Or the people it's healed.
We won't let it happen.
Treatments like these save too many lives to let slip through the cracks of history. We're determined that you hear about these kind of safe, proven cancer alternatives that are available.
That way you or a loved one can make an informed decision, instead of being intimidated by doctors into accepting chemo as your only choice.
And that's why we've assembled the full details on Bradstreet's "Super Molecule" therapy…along with the others you've just seen…in our confidential report:
7 Cancer Cure Cover-Ups
You can access your free bonus report when you click the big orange button at the bottom of this page.
Here's a brief preview of what ELSE you'll see inside…
Cancer Cover-Up #4: "Apricot Extract" formula…proven to stop tumor growth by scientists at the world's top cancer hospital Sloan-Kettering…but BURIED. The board was staffed by execs from drug and chemical companies. As one FDA higher-up explained: "Nobody is going to pay $70,000 for a new cancer drug if they can buy [Apricot Extract] for 75 cents."
Cancer Cover-Up #5: "The Gerson Therapy"—a nutritional program invented by Dr. Max Gerson, a German scientist who used potent immune system activators to heal thousands of "hopeless" cancer patients. When he presented these case studies to a Senate Committee in 1946, he became famous. Soon after, the American Medical Association and Big Pharma began a smear campaign against Gerson. They had him dismissed from Gotham Hospital, prevented any of his studies from being published, and revoked his malpractice insurance (to name a few things). But we got our hands on details of his treatment—including the recipe to his "Green Juice," a staple of Gerson Therapy.
Cancer Cover-Up #6: "Anti-tumor Protein Therapy"…a cutting-edge DNA therapy that "switches on" our body's tumor-killing proteins while suppressing our pro-tumor genes. Since 1968, studies have found it to be 177% more effective than chemo—without the side effects. And in the case of certain "incurable" cancers, it was found to be 30-times more effective. But the FDA spent 14 years and $60 million of taxpayer money in a campaign to discredit and jail the molecular scientist who developed the treatment. To be perfectly honest, this cancer killer is a bit tougher to get your hands on. But don't worry. We give you specific instructions on how you can get this treatment for yourself or a loved one.
Cancer Cover-Up #7: The "Hoxsey Herbal Tonic"… a unique combination of anti-cancer herbs considered to be the most suppressed natural cure in history. When Dr. Hoxsey—its inventor—cured a Chicago police sergeant with terminal cancer, the AMA was so impressed they offered to buy the rights to the formula. But Hoxsey refused. In two years, Hoxsey was arrested 100 times, but never once convicted. Finally, in 1960, the FDA shut down his 17 clinics.
If you've read this far, you already understand that the alternatives exist. They are proven, safe, and inexpensive. We're talking real science…real doctors…real people cured.
And you already know why 99% of Americans have never heard of them. And never will.
That's why I'd like to send you this confidential report for free, with all the details.
All I ask in return is that you give our flagship newsletter, Independent Healing, a risk-free test drive…
Welcome to Independent Healing

Independent Healing was founded on the idea that everyone has the right to all options available for their health. Most of the time the mainstream only gives us the conventional method—the pills, the surgeries, the chemo…that often do more harm than good.
The only way to ensure a long and healthy life is to take charge of your own health. To let your body do what God intended…heal itself.
So we created Independent Healing to bring the facts directly to our readers.
Dr. Robert Silverman, one of the nation's leading chiropractic healers confirms, "The Institute for Natural Healing is a trusted source of wellness information. Instead of blindly following the medical establishment, its experts drill down to find the real story behind today's major health issues."
The thing is… You won't hear this kind of information from your doctor. For whatever reasons—lack of time, effort, pressures from within the medical community, Big Pharma, and the FDA—he either doesn't know about them, or he doesn't share them with you.
And that means you could be losing out on life-changing and lifesaving knowledge.
But as Soon as You Say OK, You Will Receive Full Access to Your Independent Healing Member Benefits
Independent Healing dives into a different health topic each month and gives you specific, step-by-step protocols to treat so many of the issues we face as we age. Protocols you simply won't find anywhere else that get to the true, hidden cause of conditions. Not just the symptoms.
Like in March of 2015, when we uncovered the secret root of all cancers—and five ways to reduce your risk every day. It's all about controlling the way your body creates new blood vessels. Sounds like something you'd have no control over, I know. But you do. And if cancer hijacks your blood vessels, it means an unlimited supply of blood and nutrients to feed on. But taking something called Chinese skullcap has a direct positive effect on your blood vessels. You've probably never heard of that one. I know I hadn't. And it's just one of many solutions we revealed.
Two months later, in May, we gave readers our proprietary Natural Painkiller Protocol for eliminating—and preventing further—pain. It contains seven natural pain remedies that put drugs (OTC and prescription) to shame. Like boswellia, which you may know as frankincense. And the McKenzie press, a simple exercise to ease lower back pain.
Lawrence T. confirms, "As a healthcare practitioner specializing in natural medicine, I get a number of natural health newsletters. I have to tell you that Independent Healing has become my favorite. I find stories that I am unable to find anywhere else, and they are all well-researched. I often forward copies of articles to my patients."
Then there are our urgent health warning issues…
In June 2015, we blew the lid off death by water: how fluoride is slowly killing you. Did you know that the kind of fluoride the government puts in our water supply gets the highest hazard warning there is? Even short exposure could cause death or serious injury. I wouldn't have believed it myself if I hadn't seen the research. But it's no wonder our water is linked to arthritis and thyroid diseases…cancer and kidney failure…even severe memory loss. We gave readers all the details and ways to stay healthy—like drinking reverse osmosis water (we recommended a brand we like).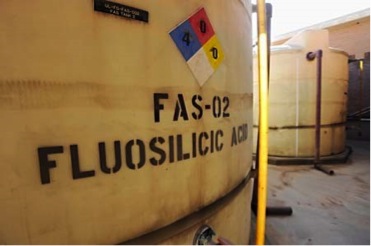 And in 2014, we revealed the common—and life-threatening—liver problem that affects about one-third of people in Western countries. Whether you drink alcohol or not, your liver is the hardest working organ in your body. Without it, you'd be defenseless against any threat, including toxins, viruses, and bacterial infections. But how often do you hear your doctor talk about it? If you're feeling tired, always sick, overweight…something as simple as naturally boosting your liver can turn your health around fast. You can start by taking milk thistle, along with a few other supplements.
We've also done past issues on:
How to supercharge your immune system so you never get the flu—especially during the cold months…
Ease heartburn, soothe your stomach, and never suffer from reflux again—without taking a single antacid…
Preserving your vision—and independence—in three easy steps…
The common but little-known condition destroying your erections and killing your prostate…
A blueprint for better brainpower—and why the foods you eat can help your brain perform better than you could ever imagine.
This is knowledge vital to your future health and the health of your loved ones. Things you won't hear on the news, or even at your doctor's office.
Like a very simple blood test developed by a Harvard neurologist.
Simple Blood Test Detects Cancer 19 Months Earlier
A test that can detect cancer long before you ever experience symptoms…and even if you feel completely healthy!
According to the late Dr. Frank Rauscher Jr., who was the senior vice president of research at the American Cancer Society, "What is so interesting about this [test] is that it doesn't depend on the type of cancer or the stage of cancer."
Independent lab studies conducted for the last 34 years show that this test…
Detects cancer 19 months earlier than normal tests, with up to 99% accuracy…
Is noninvasive, requires no radiation, and takes 30 seconds to do…
And costs 1/20th the price of scans and other tests.
Yet I doubt 1 in 1,000 doctors has ever heard of it…and even fewer will order it.
The problem is, screenings and biopsies usually don't discover cancer cells until it's too late. Scans like mammograms don't detect the disease until it's already spread. And then oncologists try to carpet-bomb it with chemo and radiation…with little success.
But that's what makes this test so vital…
It screens for a certain cancer antigen—the earliest one to appear and that no other test looks at.
That's how it identifies cancer 19 months before any other test, when it's MUCH easier to kill.
In fact, one estimate shows early diagnosis, on average, boosts patient survival rate three-times over. At that point in the progress of the disease you may never even feel the symptoms. Nobody may realize you ever had it!
That's why everybody should get this test. And it's just like getting blood work. It couldn't be easier.
I've assembled all the details on this test…its name, what to tell your doctor, and the lab where it's done…in your FREE bonus report: Cancer Uncovered: How to Discover Cancer Up to 19 Months Before Your Doctor Knows You're Sick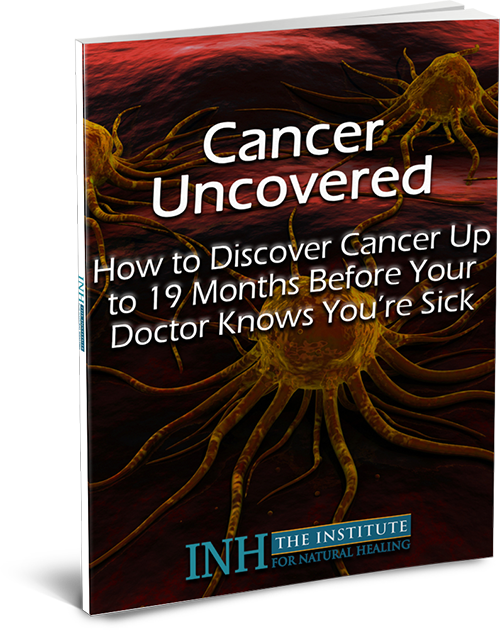 FREE Bonus Report #1:
Cancer Uncovered: How to Discover Cancer Up to 19 Months Before Your Doctor Knows You're Sick

With everything you'll find inside this report, you can confidently walk into your doctor's office tomorrow and demand to have this simple test done.
Is this test for you?
I think so.
Because even if your lab results show everything's fine…
And you feel perfectly healthy…
You could already have early stage cancer…and not know it. Then you can cut it off quickly and easily before it develops further.
Or if you've had cancer before—and are now in remission—this test is especially important.
It could tell you early on if cancer cells are forming once again. That way you can "nip it in the bud."
No matter what your family history, or experience with cancer, I urge you to immediately sign up now to claim this FREE bonus report.
But even if everything seems fine with your health, cancer can result from some of the most unexpected sources.
And if you're privy to them, there are proactive measures anyone can take to stop its development.
No matter your age, income, medical background, or family history.
Stop Cancer by Killing the Deadly (and Common) Pathogen Behind It
You see, lurking behind almost every form of cancer is something overlooked by modern medicine…
A dangerous infection that spreads throughout your body just like cancer…killing healthy cells and destroying your immune system.
Infections are a serious but little-understood cause of cancer. Some of the world's leading cancer researchers believe up to half of all cancers are caused by them. But it could be even more.
What we do know is a specific kind of pathogen is strongly associated with cancer—and it's called candida.
Candida is a fungal infection…one that not only mutates healthy cells, but feeds the blood supply of tumors.
That may sound odd. But researchers have found up to 91% of cancer patients suffer from it.
Cancer grows rapidly when the candida spreads. But once the fungus is killed, blood flow shuts off to the cancer tumors…which quickly shrink, wither away, and die! That's why new research shows antifungal drugs are a promising treatment for cancer care.
A University of Texas study found antifungals stop tumor growth by up to 50% and could be "a promising new cancer therapy."
A study in the Journal of Clinical Oncology found antifungals shrunk tumors and reduced cancer cell growth by 45% in patients with basal cell carcinoma.
Yet even with all of this new research, most doctors still don't know to look for candida.
The symptoms of an overgrowth are all unrelated, leaving most doctor's dumbfounded. They may link it to a dozen other illnesses…or even say you're depressed.
But no matter your current health, I urge you to get it checked (a simple at-home test can detect if you have an overgrowth)…
Because if left to grow uninhibited, it can become a systemic infection that wrecks your health…and could result in cancer.
The risk can come from overuse of antibiotics, certain foods, smoking, drinking…or stress.
Whatever triggers it, your immune system can only keep the infection at bay for so long. And once your body's defenses fall apart, candida spreads throughout your body like cancer.
It attaches itself to healthy tissue and strangles healthy cells with tentacles known as rhizomes.
It secretes cancerous toxins throughout your body.
And it feeds cancer cells, enabling them to grow and spread.
But the good news is, you can kill candida before you develop cancer.
And by following a few simple steps to becoming fungus-free, you can help keep cancer away.
In fact, we've uncovered a number of therapies and herbs proven to purge candida from your body.
We've assembled them in our unique Candida Killing Protocol you can start using today…from the comfort of your home.
You'll also get the very simple set of tests to detect early fungal overgrowth right away.
It's ALL detailed in your second FREE bonus report: Killing Candida: Stop This Deadly Pathogen…Before You Get Cancer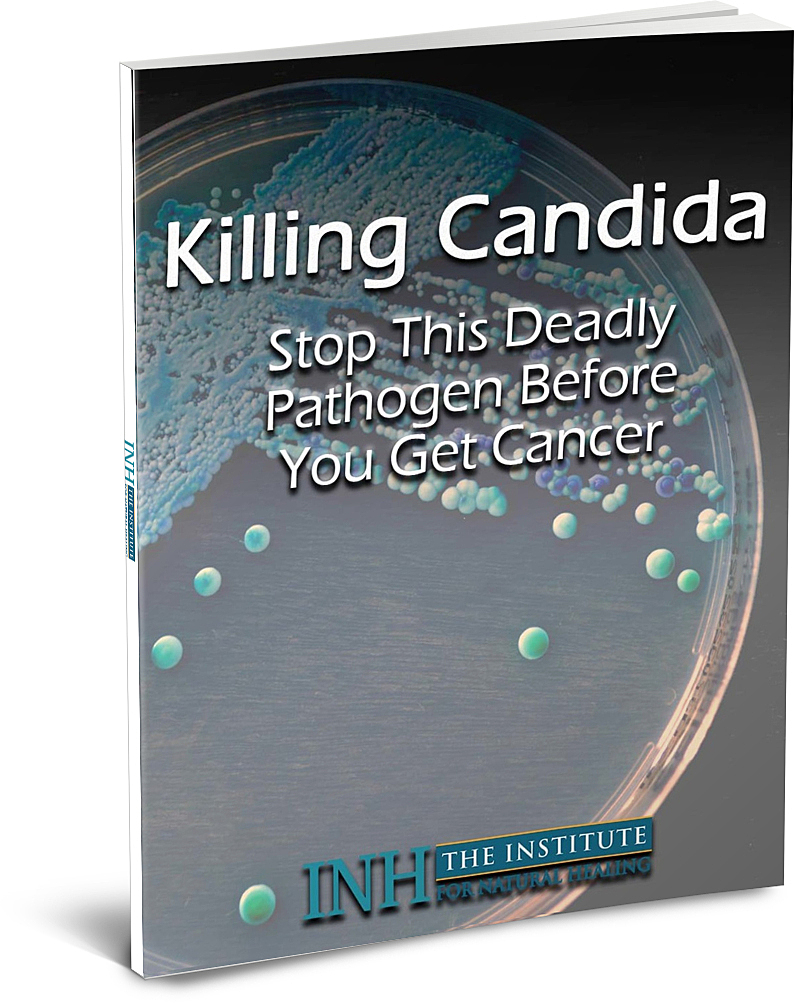 FREE Bonus Report #2:
Killing Candida: Stop This Deadly Pathogen…Before You Get Cancer

Oh, and I haven't mentioned yet: If you ever decide Independent Healing is not for you, you can easily cancel your membership and keep your three free reports, and any others you get along the way. You don't have to worry about risking a penny—you'll get a full refund, no questions asked—even if you cancel on the very last day of your subscription.
That's how we say thank you for trying us out. But I do think you'll want to stick with Independent Healing. Because in this day and age, you need someone you can trust. A place you can turn to again and again for real, unbiased answers.
As Janice Stanton from Ohio put it:
"I love your newsletter. I am my own 'doctor' and believe I can heal my body better than anyone if armed with the right information. I love how informative all the issues are. It is a breath of fresh air in a society that thinks toxic prescription concoctions are the way to fix an issue."
George Grisham in Meridian, Texas, said:
"We have the misfortune of having multiple medical issues in our lives and I do not trust mainstream medicine enough for the right answers. With Independent Healing I have the options I need to find those answers. You have given me a wealth of knowledge to help take control of my health and those around me."
And that's the thing. Because we are outside the influence of the medical establishment, we are free to bring you the best treatments and the real facts.
One reader in South Africa helped fight his cancer using Independent Healing. He wrote to us:
"Your topics to naturally fight cancer have helped me with my struggle against cancer. I am now five years cancer-free. Independent Healing helped me to take my health into my own hands."
And a member in California shared:
"I have a friend who has debilitating osteoarthritis and was in constant pain. After reading your issue on arthritis, she started taking glucosamine sulfate and chondroitin sulfate. After taking the supplements for about a week, she has been free from pain ever since."
If we can find real evidence that a natural remedy works, we bring complete details to our members. And if we find evidence that it doesn't work, we tell you that too.
That's why over 35,000 people already get Independent Healing delivered to their inbox each month. It's the fastest delivery method there is, so we can get timely information in your hands right away.
Dr. Deborah Gordon, a renowned physician and authority on ancestral and integrative health confirms, "If you want to have an active role in maintaining your own health, The Institute for Natural Healing is a wonderful resource for you. INH is a great health team that keeps up with the latest research, reports on what is reliably learned, and presents it clearly so that you can make healthy choices for your own life."
When you join today for a risk-free membership, you'll receive: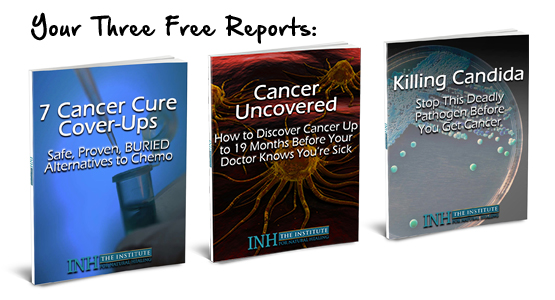 7 Cancer Cure Cover-Ups: Safe, Proven, BURIED Alternatives to Chemo
Cancer Uncovered: How to Discover Cancer Up to 19 Months Before Your Doctor Knows You're Sick
Killing Candida: Stop This Deadly Pathogen…Before You Get Cancer
A secure, private website we've set up where you can access these reports at any time
And a new, detailed, Independent Healing newsletter issue every month.
We include interviews with some of the world's top health experts,like Dr. Paul Connett, executive director of the Fluoride Action Network; and Dr. William Grant, science director of the Vitamin D Council. These internationally recognized experts speak with us in exclusive one-on-one's where we get to the heart of secret truths and hushed-up health cures. Often with information you won't hear anywhere else. And these interviews are specifically for our members.
But when you join us today, you could get so much more than that.
The Top 5 Supplements You Should Take No Matter What Ails You. Most of us can't possibly keep up with all the supplements we should be taking. It's so hard to choose and it can get very expensive. But if you take nothing else, take these. You could get this report as a free bonus today.
AND SEVEN MORE BONUS BEST HEALTH GUIDES.
So click the button at the bottom of this page and start your risk-free membership.
Pretty soon your friends and family will be coming to you for health advice more than their own physicians!
Like Isabelle Jimenez in Button, Texas, who said:
"I share the information you provide with my friends and family. Especially the ones I use. Like magnesium—it's helped my palpitations and leg problems."
And from Rob Laroux in France:
"Independent Healing helped me find other methods to fight my cancer. And I hope I'll be able to help other people escape the stupid chemo and radiation treatments that could be destroying lives."
As each monthly issue with its specialized protocol comes out…and with each urgent bonus report…your library will grow. One you'll refer to again and again as health issues pop up in your family.
The most recent health breakthroughs, with actual scientific results, are only available in medical journals. Subscriptions to these journals cost hundreds of dollars a year.
Today you can join Independent Healing for just pennies a day—at absolutely no risk.
Take it from member Maurice A. of Ontario:
"If anyone was considering subscribing, I'd tell them, 'Do it. Your life depends on it!'''
Click the button below to claim all your membership benefits now. And I'll send your three free reports right away.
In Good Health,



Angela Salerno
Executive Director
The Institute for Natural Healing

Testimonial images used for illustrative purposes only. Photo and video credit: istockphoto.com